Create a Precedent for Xi'an Luxury Hotels
——The Ritz-Carlton Xi'an Grandly Top Out
With the social development, luxury star hotels which settle down in Xi'an increase in large number, including Shangri-La, Sheraton, Westin, Hilton etc. However, they haven't been qualified to enroll in the club of international luxury five-star hotels. Today, with aristocratic style never fading, the award-winning luxury hotel Ritz-Carlton, which provides worldwide celebrities and politicians with considerate and excellent service, is going to rise on the land of Xi'an. The top-out ceremony was grandly held on January 28, 2016.
Located in Gaoxin Road of Xi'an High-tech zone, the Ritz-Carlton Xi'an is a part of Zhongda International urban complex project– THE CITY (THE CITY is composed of Ritz-Carlton Xi'an, Zhongda International No.9 city high-grade residence and Zhongda International Commercial Center). The hotel as a whole is architecturally designed by US top design firm WATG, and internationally renowned hotel interior designer Peter Remedios himself takes the charge of the hotel interior design. Ritz-Carlton Xi'an will continue to inherit the style of this hotel and inspire people to discover life's most meaningful journey. The hotel, which includes all-day dining restaurant Xi'an Kitchen, specialty restaurant TASURO, senior Cantonese restaurant Tin Lung Heen, will show the unique charm of the Ritz-Carlton to owners and guests. Banquet halls of variable size and lawn area for outdoor banquets are available for high standard and customized events; business center and conference rooms will be ready for owners when meeting with business partners; SPA center, spa garden and health center will enable owners to wholeheartedly enjoy the joy of sports.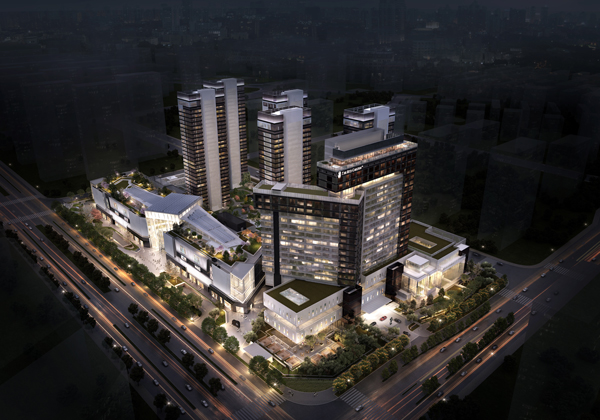 Known as the "Roof of the World", the Ritz-Carlton has its hotels settled in carefully selected and unique places in various cities. Each hotel has its own distinct characteristics and strong sense of region, history and culture. The Ritz-Carlton prefers prosperous and bustling, unique areas, so major cities of almost each country around the globe have one Ritz-Carlton hotel. Surrounding the hotel must be luxury dwelling, which has become a law. Correspondingly, Zhongda International No.9 city high-grade residence listed in the same project with the luxury hotel is surely to become a representative symbol for Xi'an luxury real estates. Its luxury needn't explanation for its expected price of forty thousand to forty thousand Yuan square meter for hardcover houses, twofold of that of the city's current most expensive residence.
The Xi'an luxury hotel pioneer– Ritz-Carlton Xi'an grandly topped out on January 28. The opening is coming. The hotel industry in ancient city Xi'an is going to step on a new stage for "luxury". How the Ritz-Carlton hotel will continue its brand aristocratic style in Xi'an, let's wait and see!