Three-star Green Building Label for Zhongda International THE CITY Project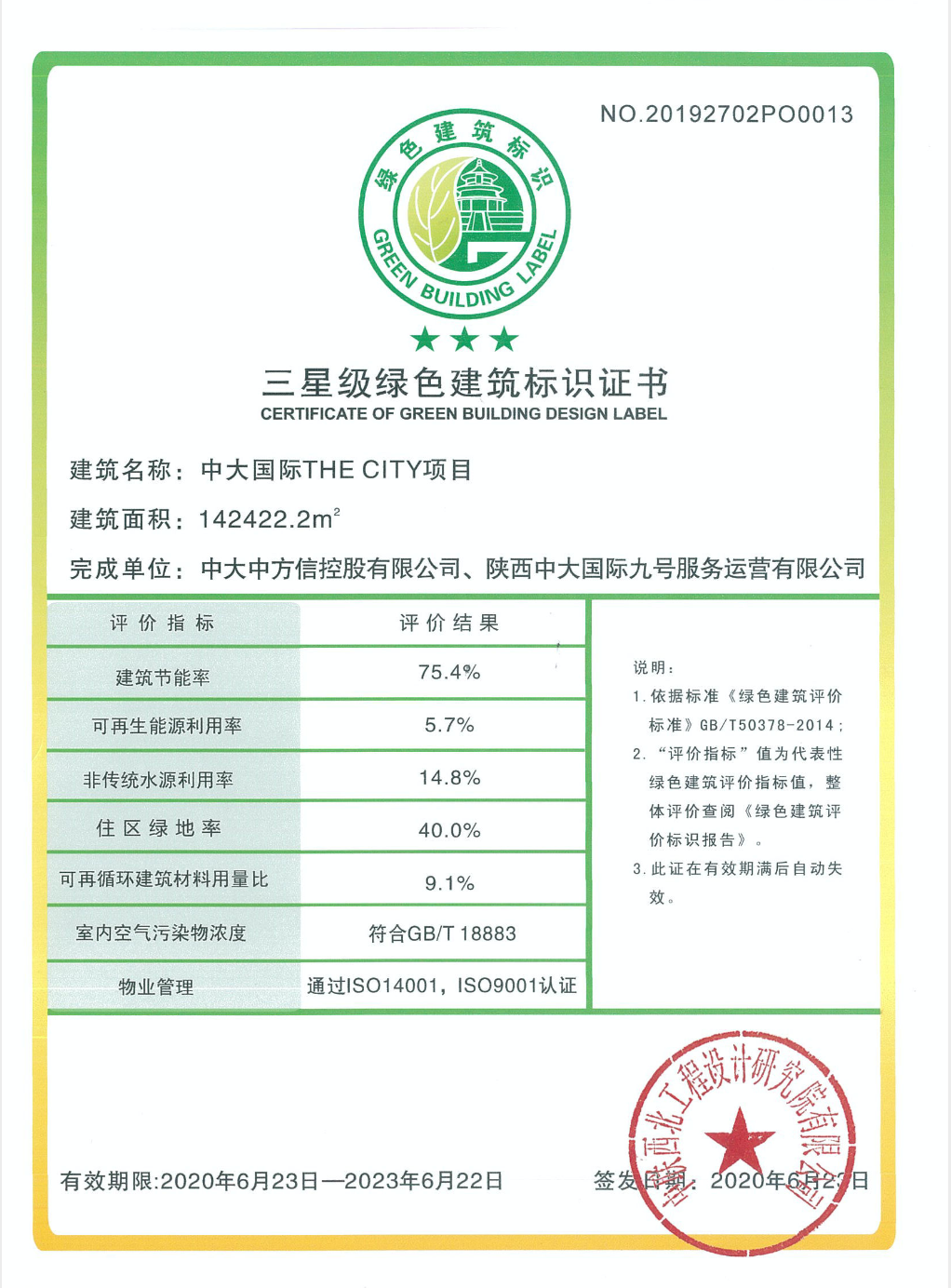 In June 2020, Zhongda International THE CITY Project passed the evaluation of the Green Building Evaluation Label Project of the Ministry of Housing and Urban-Rural Development and was awarded the national three-star operation evaluation of green building, filling the gap in Shaanxi Province.
The "Green Building Evaluation Label" is the certification system established by the Ministry of Housing and Urban-Rural Development of the People's Republic of China. It is the most authoritative green building certification in China. The three-star label is the highest certification level. Green building evaluation is divided into two categories: design and operation. Compared with the design evaluation, the operation evaluation standard is more stringent. Only after the building is completed and put into operation can it pass the operation evaluation if it achieves true and continuous energy saving, water saving and environmental protection.
Nowadays, under the global advocacy of a low-carbon economy, it has become an inevitable trend for eco-city development to save resources, protect the environment and reduce pollution to the maximum extent and provide healthy and applicable green buildings that are in harmony with nature. As the starting point of countless innovative practices in Xi'an's real estate industry, Zhongda International THE CITY is the top urban complex in Northwest China integrating the Ritz-Carlton (Xi'an), Zhongda International Shopping Mall and Zhongda International No. 9 High-grade Residence. The design team consists of WATG Architectural Design Firm, TJAD, Peter Remedios, the Chief Designer of Remedios Studio, the world-renowned interior design firm, and Tan Jingzhong, a senior contemporary interior designer in Taiwan, as well as more than 30 top professional teams in the world such as AECOM landscape design, mechanical and electrical consultants of Parsons Brinckerhoff (Asia), PFT curtain wall design consultants, and professional acoustic consultants of Hong Kong A:I. The project has received extensive attention from the industry since its design. The planning, design, construction, operation, delivery and careful management of the project after delivery were strictly in accordance with the three-star green building standard. The building process such as earthquake resistance, comfort, health, low-carbon, energy saving and environmental protection as well as management details were polished repeatedly. Create a full range of green, healthy and comfortable ultimate life experiment for customers with almost harsh standards and craftsmanship spirit. The green three-star label represents THE CITY's attitude of symbiosis with the city and the way to live in harmony with nature. It only makes the architecture return to the essence of life, face the future and return to nature, breathe together with the city and grow healthily together.